Type: Gas magazine for 6mm BBs
Material: Mainly metal
Capacity: 15 BBs
Scope of delivery:
Magazine with already installed Begadi Stainless Efficiency valve + replacement exhaust valve (original WE)
Suitable for:
- WE M 1911 series

Our Begadi Efficiency valve made of stainless steel is already installed in this magazine.
Thanks to its smoothness and the revised design, this valve ensures a significantly more constant energy output and reduces gas consumption by up to 30%.
For example, it is possible to fire up to 55 rounds at 0.85 joules from a small 1911 GBB magazine (specification with ProTech Gas at 18 ° C). This valve also has an additional O-ring inside, so that the impact piston is sealed to the rear when it is opened and no gas can escape.
The amount of gas that can escape per shot has been set so that the GBB can work without problems but does not fall into cool-down as quickly. Since O-rings can leak again and again, we use a special material that is resistant to cold. This does not contract in the cold and lasts much longer. All components of our valves are made of stainless steel CNC. Due to the high pressure of CO2, we are working here with a PTFE / Teflon seal which was also CNC manufactured.
The Begadi Efficiency valves are not available individually, but only when installed in magazines or the GBBs as / where we offer them in the shop. Customers who have purchased magazines or GBBs without Begadi Stainless Efficiency valves from Begadi in the past can have the Begadi Stainless Efficiency valves retrofitted by our workshop on request. This service is limited to magazines & GBBs purchased from Begadi.
Sectional drawings of the Begadi Stainless Efficiency valves including material information: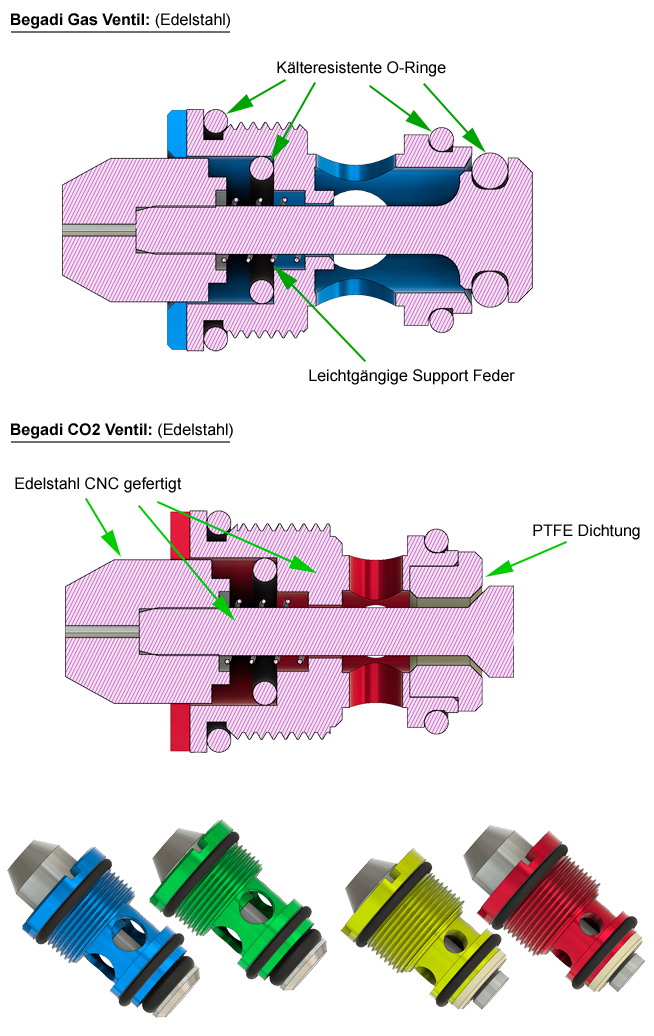 Note on the additionally supplied original WE outlet valve:
WE delivers its GBBs and magazines only including their original exhaust valves. Therefore, for the Begadi versions of the magazines, the original WE valves are then dismantled and replaced by the Begadi Stainless Efficiency valves. The original WE outlet valve, which is then removed, is included in the delivery (is included in the packaging of the magazine). We recommend keeping the said original WE valve as a backup. The outer O-rings can also be used for the Begadi Stainless Efficiency valve.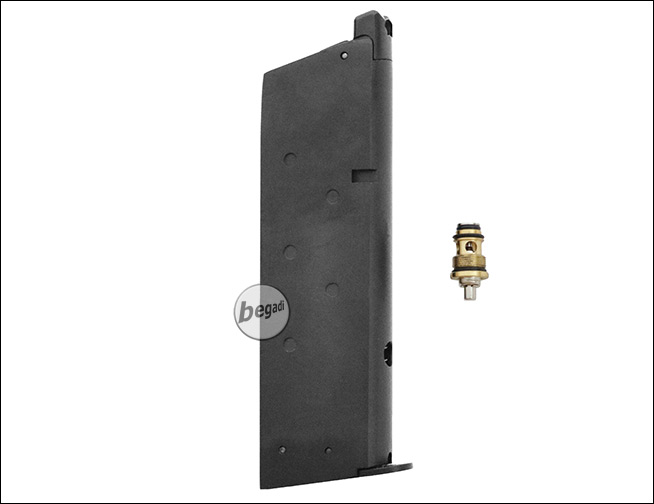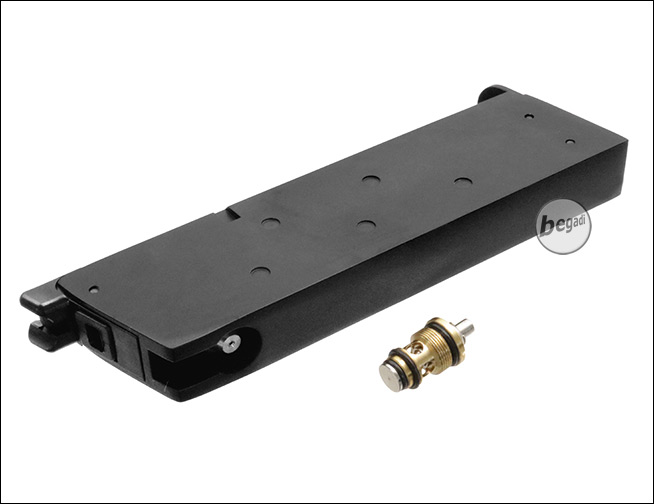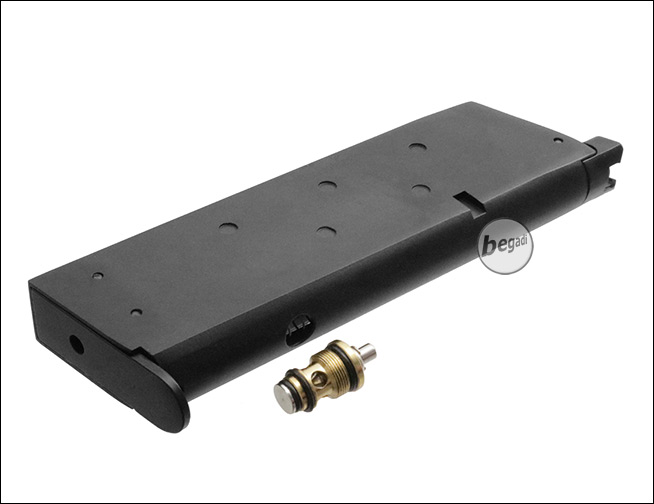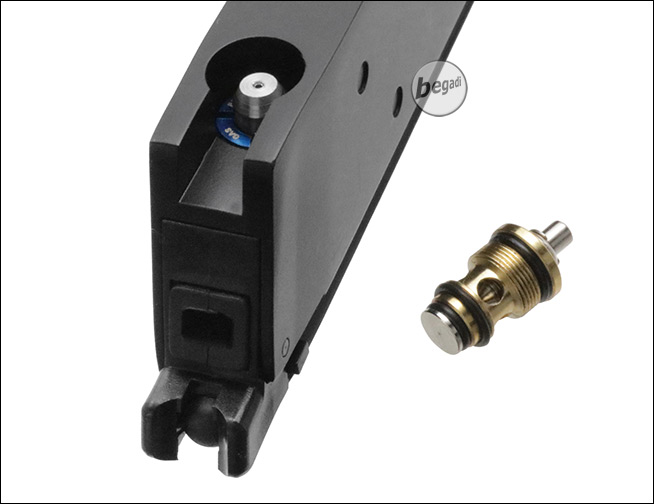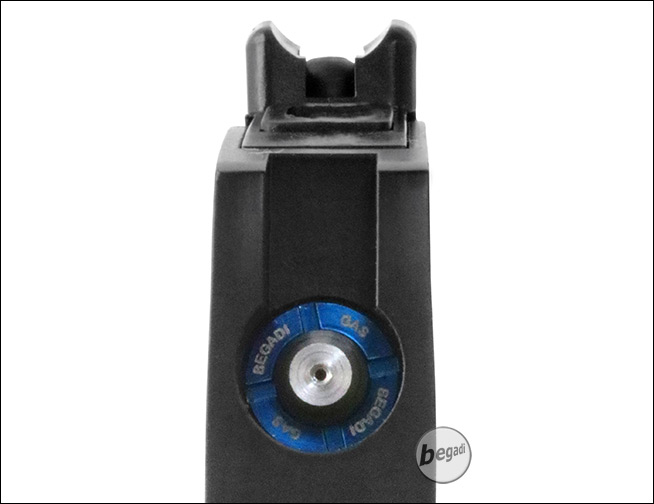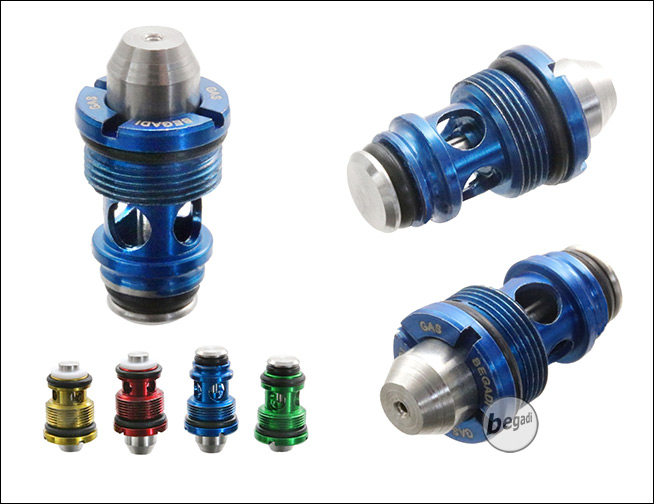 Buy 3 for

€41.71

each and save

5

%
Buy 5 for

€40.83

each and save

7

%
Buy 7 for

€39.95

each and save

9

%
Buy 9 for

€39.07

each and save

11

%