For your orders at Begadi we use a system based on a two-stage authentication, as required by law. The age of the account holder and the age of the goods recipient are checked.
Click here for more information
The check is automated, convenient and DSGVO compliant!
Hersteller: KJ Works
System:
GBB
Kaliber:
6mm
HopUp:
ja, einstellbar
Material:
Komplett Metall, nur Griffschalen aus Kunststoff
Magazin Kapazität:
26 Schuss
Energie:
ca. 0,8 Joule (Gas) bzw. 1,0 Joule (CO2)
Gesamtlänge:
ca. 225 mm
Gewicht:
ca. 960g
Lauflänge:
112mm
PTB Zulassung:
Details siehe hier
Im Lieferumfang ist je nach Version / Angebot ein Gas- oder CO2 Magazin enthalten.
Im hier dargestellten Angebot ist das Gasmagazin enthalten.
Eigenschaften:
- Schlitten, Griffstück, Außenlauf und Innenleben aus Metall gefertigt
- 21mm Schiene zur Aufnahme von Zubehör
- 14mm CCW Gewinde für die Montage von Tracer oder Silencer
- Gewindeschutzkappe mit O-Ring
- Kimme und Korn mit weißen Punkten zur schnelleren Zielerfassung
- kann mit Gas oder CO2 verwendet werden (je nach Magazin)
- Handballensicherung wie beim Original
- Demontage und Funktion wie beim originalen Vorbild
- starker Rückstoß
- PRO Version
- Internals (Hammer, Valve-Knocker, Sear) aus Stahl gefertigt
- Begadi Stainless Efficiency Ventil
- sehr gute Gas-Effizienz trotz kleinem Magazin
- CNC Pistonhead mit Ventilation
- Waffe wird in einem gepolsterten, absperrbaren Koffer geliefert
- Maintainance Kit im Lieferumfang enthalten
Details zur PRO Version:
Bei der PRO-Version sind alle Bauteile der Abzugsgruppe aus Stahl gefertigt, der Sear aus gehärtetem Stahl.
Im Vergleich zur Standard Version wurde das Nozzle verstärkt und wird nun aus robustem Nylon Fiber hergestellt. Dieses hält ebenfalls dem hohen Druck von CO2 deutlich besser Stand.
Um eine perfekte Abdichtung zu gewährleisten ist bei der PRO-Version ein CNC gefertigter Pistonhead mit Ventilation verbaut. Dieser sorgt auch im Cool-Down Bereich für ein gut laufendes System.
Durch die bessere Abdichtung kann die Energie etwas höher liegen als bei der Standard Version.

Bei dieser Waffe ist bereits unser Begadi Efficiency Ventil aus Edelstahl verbaut.
Dieses Ventil sorgt durch seine Leichtläufigkeit und der überarbeiteten Konstruktion für eine deutlich konstantere Energieabgabe und reduziert den Gas-Verbrauch um bis zu 15%.
So ist es beispielsweise möglich, aus einem kleinem 1911 GBB Magazin bis zu 55 Schuss bei 0,85 Joule abzugeben (Angabe mit ProTech Gas bei 18°C). Ebenfalls verfügt dieses Ventil im Inneren Bereich über einen weiteren O-Ring, somit wird der Schlagkolben beim Öffnen nach hinten abgedichtet und es kann kein Gas austreten.
Die Gas-Menge welche pro Schuss austreten kann, wurde so eingestellt, dass die GBB problemlos arbeiten kann aber weniger schnell in den Cool-Down fällt. Da es immer wieder zu einer Undichtigkeit bei O-Ringen kommen kann, verwenden wir hier ein spezielles Material welches kälteresistent ist. Dies zieht sich bei Kälte nicht zusammen und hält deutlich länger stand. Alle Bauteile unserer Ventile sind aus Edelstahl CNC gefertigt. Durch den hohen Druck von CO2 arbeiten wir hier mit einer PTFE/Teflon Dichtung welche ebenfalls CNC gefertigt wurde.
Die Begadi Efficiency Ventile sind nicht einzeln erhältlich, sondern nur in verbautem Zustand in Magazinen oder den GBBs wie/wo wir sie im Shop anbieten. Kunden, welche in der Vergangenheit betreffende Magazine oder GBBs ohne Begadi Stainless Efficiency Ventile bei Begadi erworben haben können durch unsere Werkstatt auf Wunsch die Begadi Stainless Efficiency Ventile nachrüsten lassen. Dieser Service ist beschränkt auf bei Begadi gekaufte Magazine & GBBs.
Schnittzeichnungen der Begadi Stainless Efficiency Ventile inkl. Material Infos: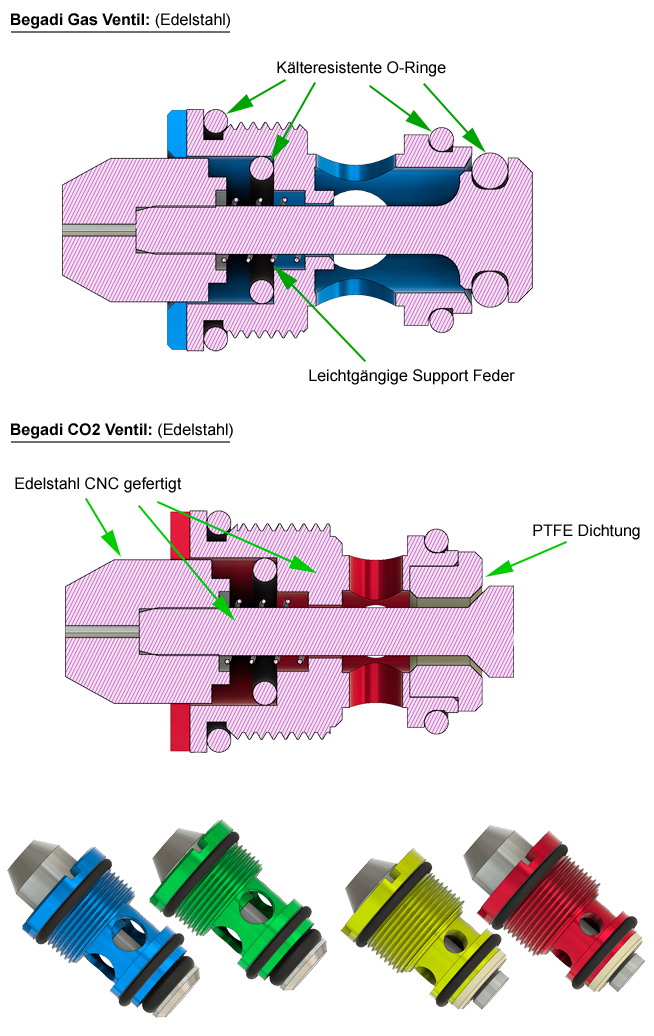 Maintainance Kit:
Damit Sie als Kunde viele Jahre Spaß mit der gekauften Waffe haben, legen wir der Lieferung einige Verschleißteile bei, welche bei einer Wartung oder Beschädigung ggf. getauscht werden können, Inhalt des Kits ist wie folgt:
- Einlassventil
- Original KJW Auslassventil inkl. O-Ringen
- Magazinlippen
- Magazin Follower
- O-Ring für Magazinboden
Hinweis zum ergänzend mitgelieferten original KJW Auslassventil:
KJW liefert ihre GBBs und auch Magazine nur inkl. deren originalen Auslassventilen aus. Daher werden für die Begadi Ausführungen der Magazine im Anschluss die originalen KJW Ventile durch die Begadi Werkstatt demontiert und durch die Begadi Stainless Efficiency Ventile ersetzt. Das dann ausgebaute originale KJW Auslassventil wird mitgeliefert. Wir empfehlen, das besagte originale KJW Ventil als Backup aufzubewahren. Die äußeren O-Ringe können ebenfalls für das Begadi Stainless Efficiency Ventil verwendet werden.
Im Zuge des Ventiltauschs durch die Begadi Werkstatt werden die Magazine auch geprüft, inkl. Schusstests in der entsprechenden GBB. Durch diese Tests entstehen vereinzelt minimale Nutzungsspuren an den Magazinen. Dies lässt sich bei Tests leider nicht komplett vermeiden.
Magazine, Zubehör & Downloads:
- Magazin für KJW KP-07 Serie, 26 BBs - Gas Version, silber - mit Begadi Stainless Efficiency Ventil
- Magazin für KJW KP-07 Serie, 26 BBs - CO2 Version, schwarz - mit Begadi Stainless Efficiency Ventil
- Magazin für KJW M1911 Serie, 26 BBs - Gas Version - mit Begadi Stainless Efficiency Ventil
- Magazin für KJW M1911 Serie, 26 BBs - CO2 Version - mit Begadi Stainless Efficiency Ventil
- Begadi G10 Griffschalen für M 1911 GBB Modelle
- KJW KP-07 GBB Bedienungsanleitung inkl. Explosionszeichnung
- KJW KP-07 CO2 Magazin Explosionszeichnung
- KJW 1911 + KP-07 Ersatzteile (gemeinsame Kategorie, vieles kompatibel)
- Explosionszeichnung des KJW 1911 CO2 Magazins
Info:
Die 1911 Magazine sind auch kompatibel, die Bodenplatte sieht nur optisch ein wenig anders aus.
Videos & Reviews mit Fokus auf das Begadi Stainless Efficiency Ventil:
In den folgend verlinkten Videos werden primär andere Pistolenmodelle gezeigt, der Fokus liegt jedoch mit auf den Begadi Stainless Efficiency Ventilen, daher sind diese Reviews hier verlinkt. Die Ventile und somit deren Eigenschaften sind gleich und somit auch auf die hier angebotene KJW GBB übertragbar.
- WE GBB "Upgrade Version" - Fokus auch auf das Begadi Stainless Efficiency Ventil (YouTube, REAPERs Airsoft)
- WE/BEGADI GBB Update - Fokus auch auf das Begadi Stainless Efficiency Ventil (YouTube, TEAM-030-AIRSOFT)
- WE GForce 19 GBB - Fokus auch auf das Begadi Stainless Efficiency Ventil (YouTube, Highlander)
- WE GForce 34 GBB - Fokus auch auf das Begadi Stainless Efficiency Ventil (deutsch, rapax.net, Video + Text)
-
WE HiCapa GBB
Review
und
Schusstest / Mag Check
- auch mit Fokus auf das Begadi Stainless Efficiency Ventil.
(YouTube, Angry Unicorns Airsoft)
Empfohlene Hartschalenholster:
- Begadi Basic Universal Hartschalen- Holster, voll verstellbar, für größere Pistolen
- AMOMAX Paddle Hartschalen Magazintasche für M1911 Serie [AM-MP-1911]
- BEGADI "Multi Fit" Hartschalen - Holster mit Paddle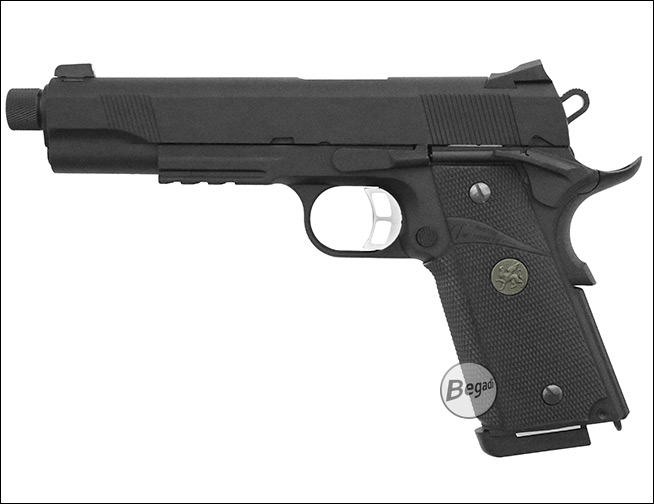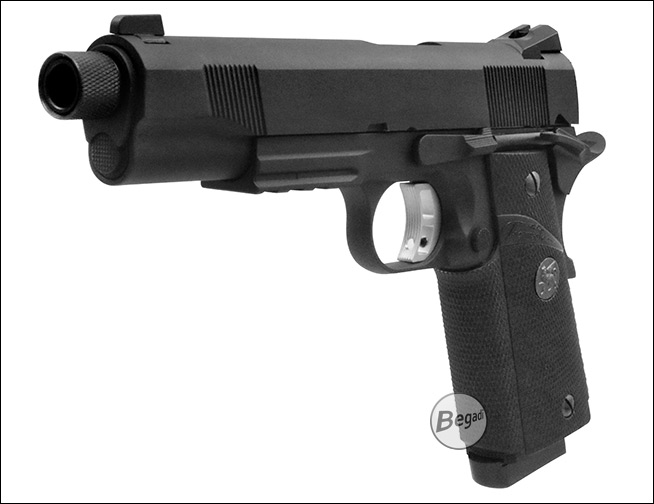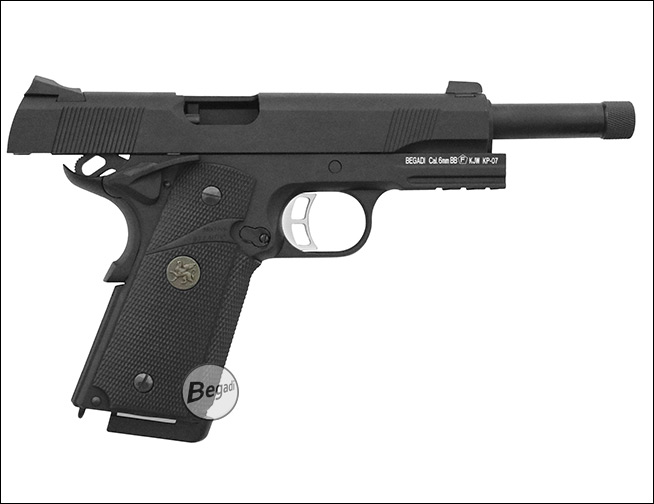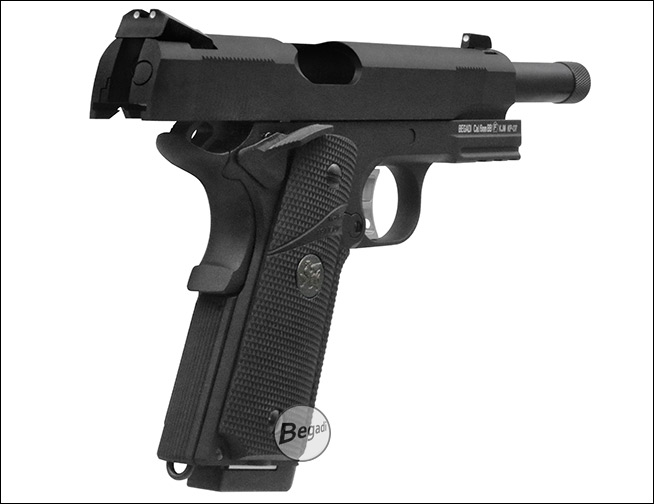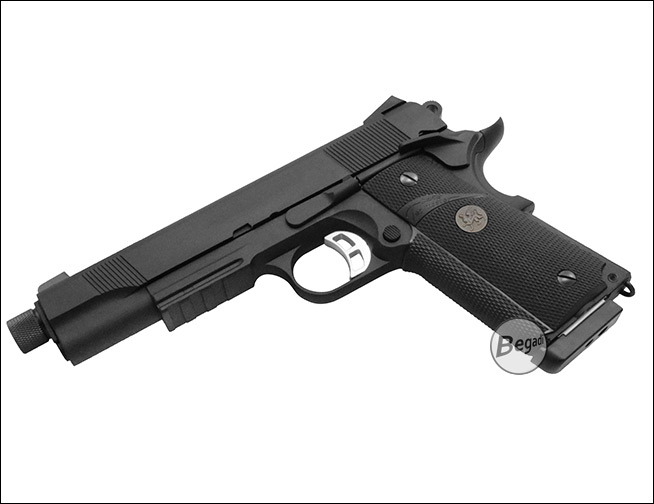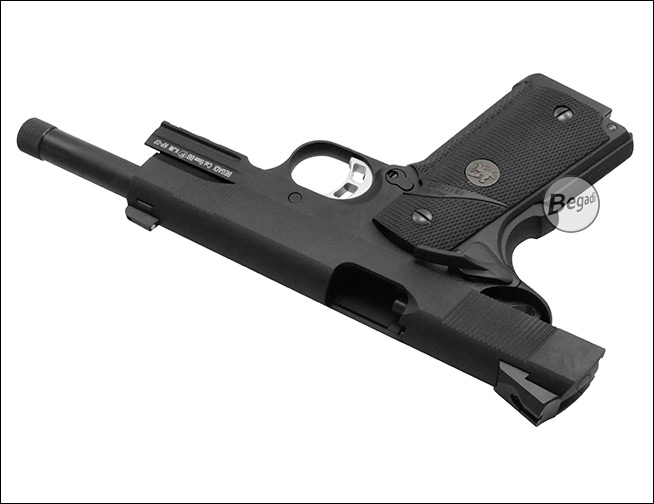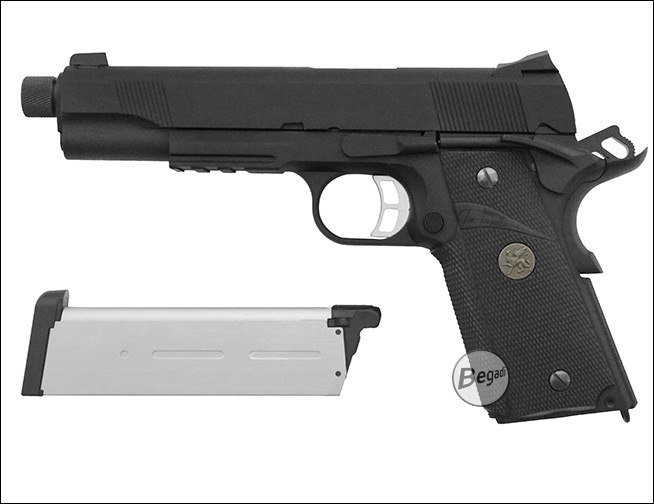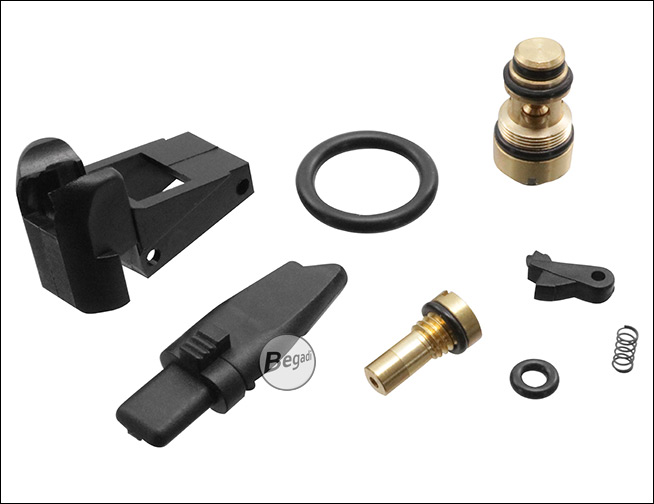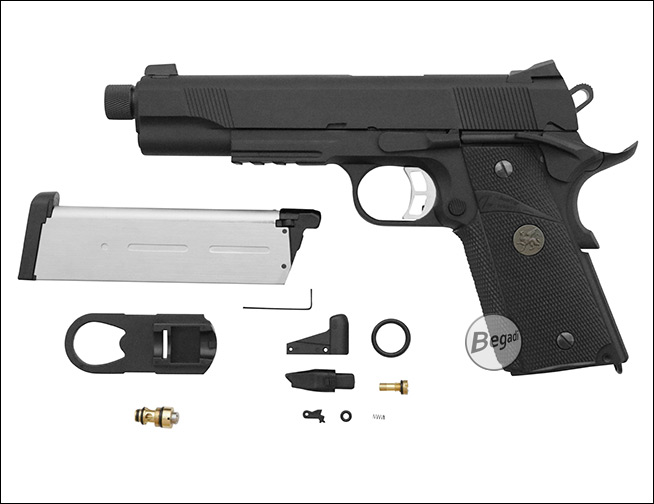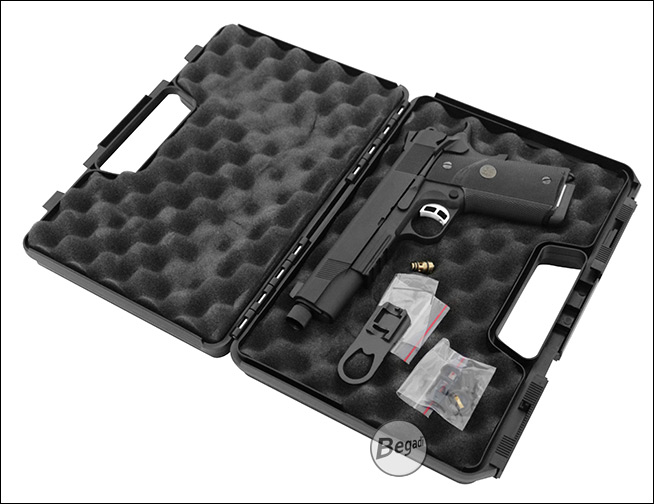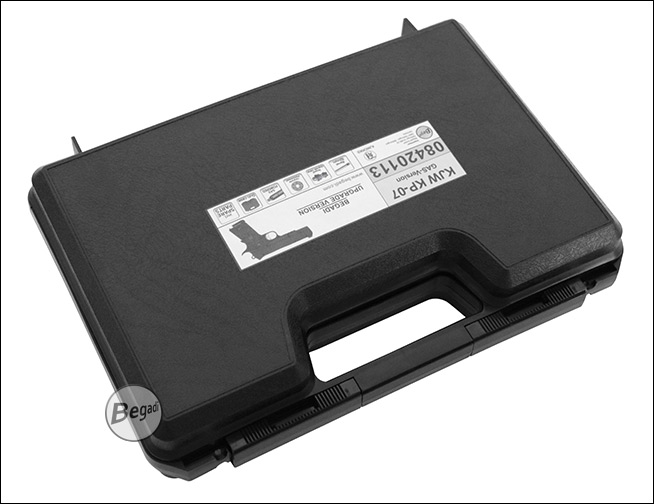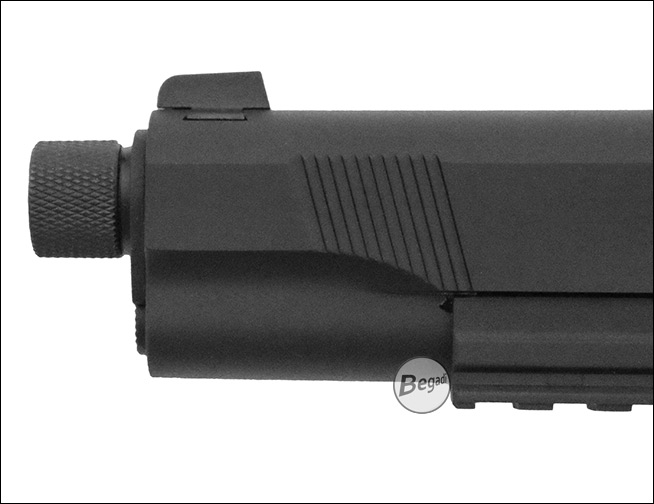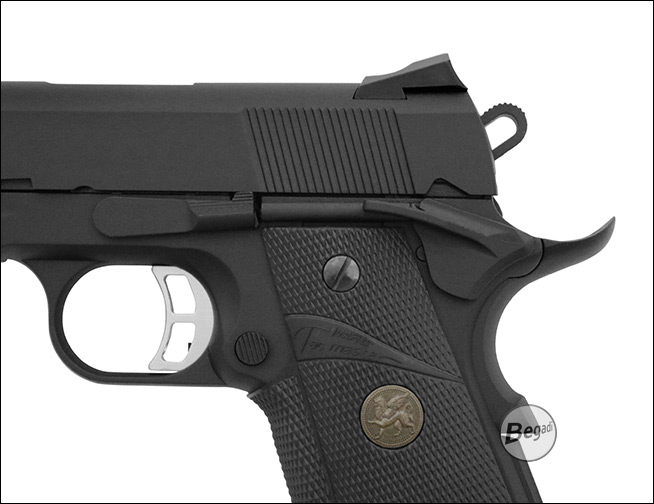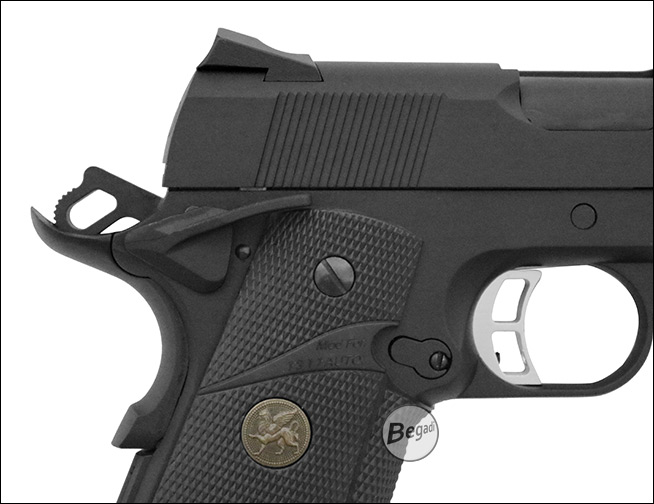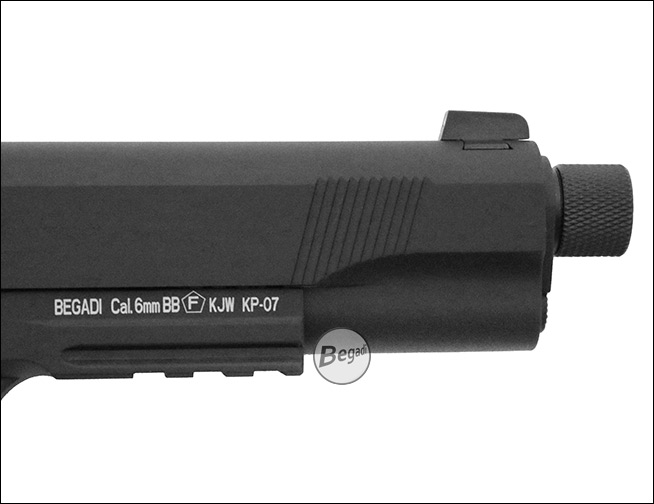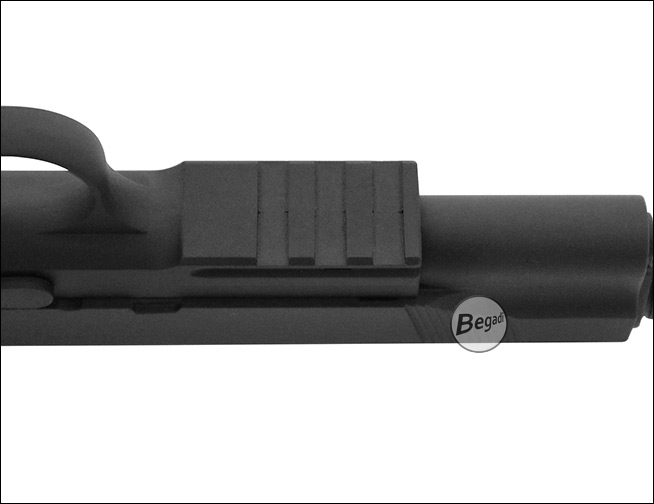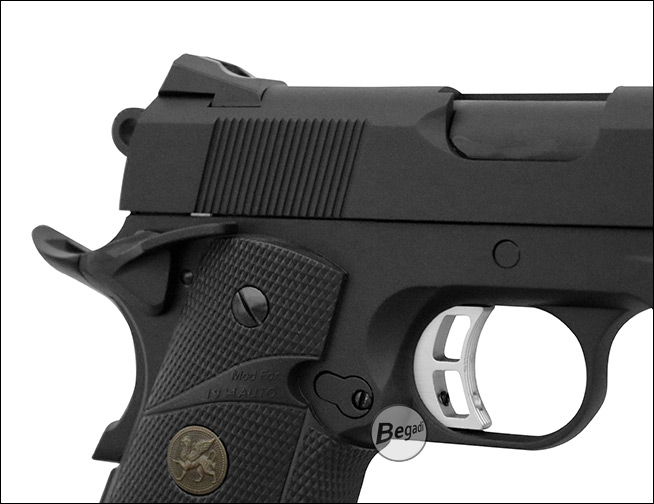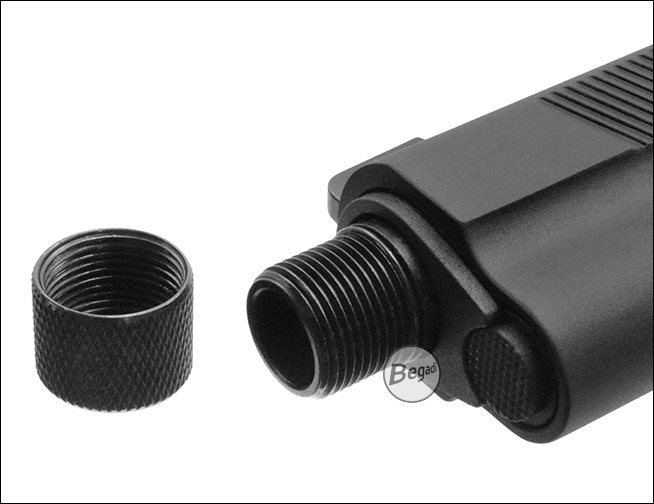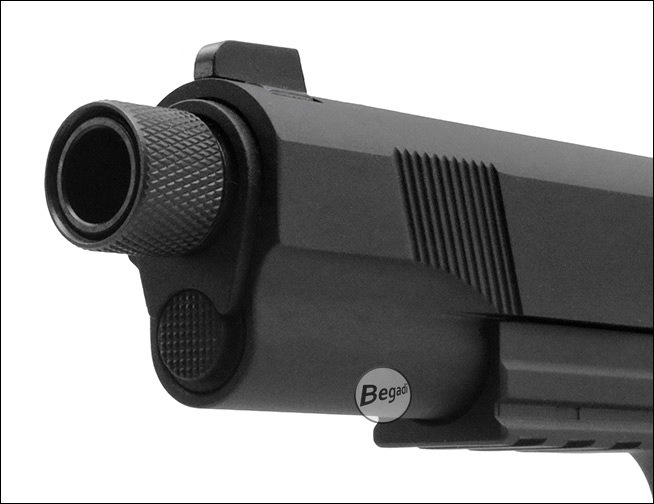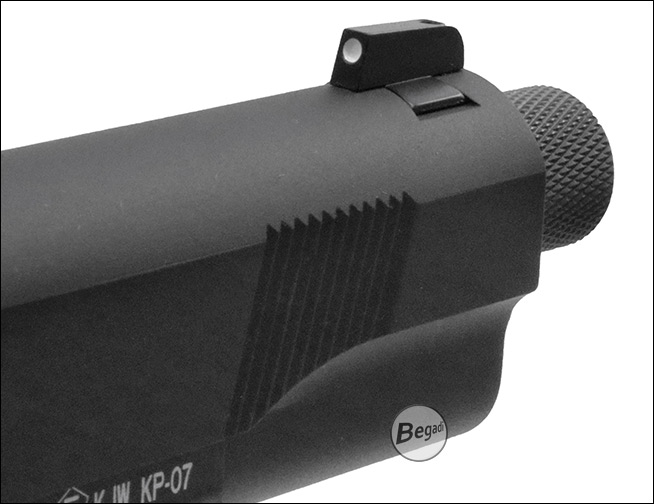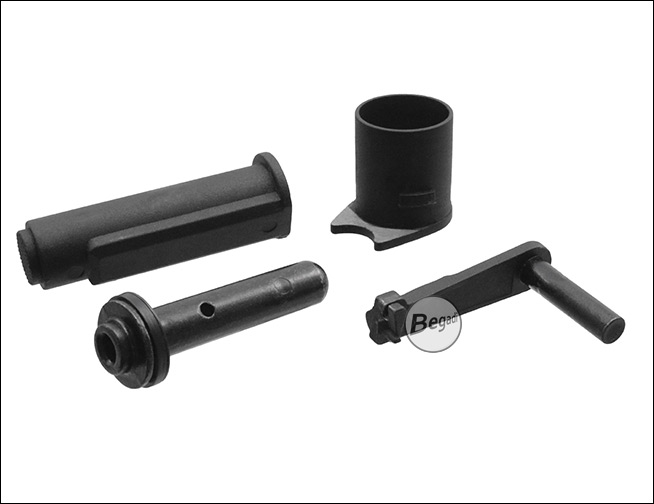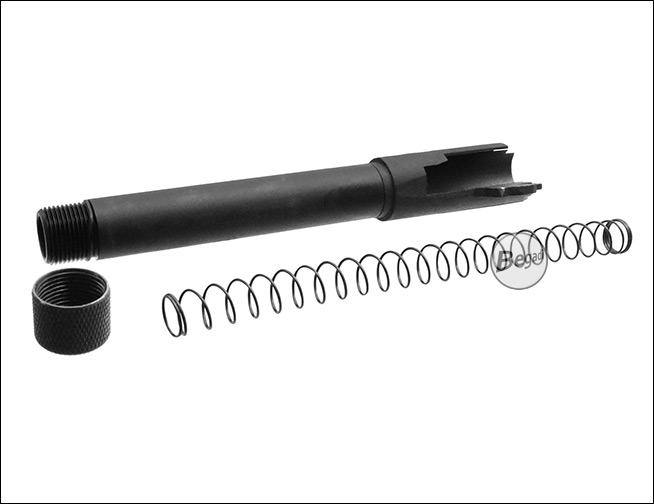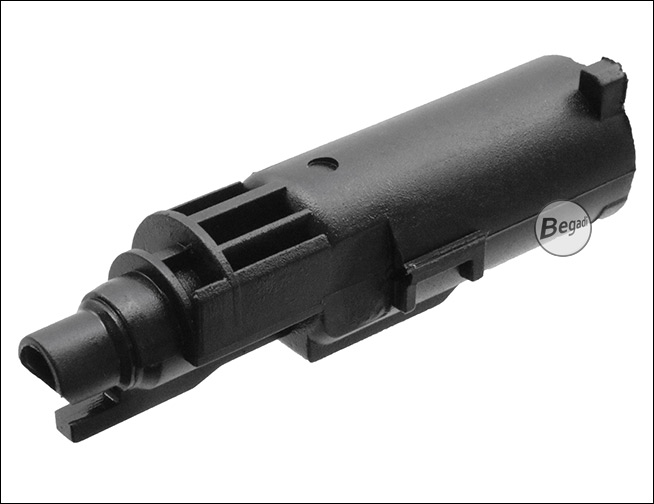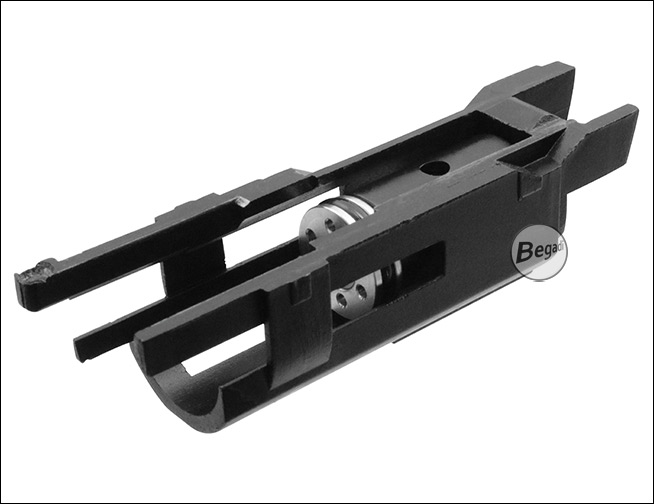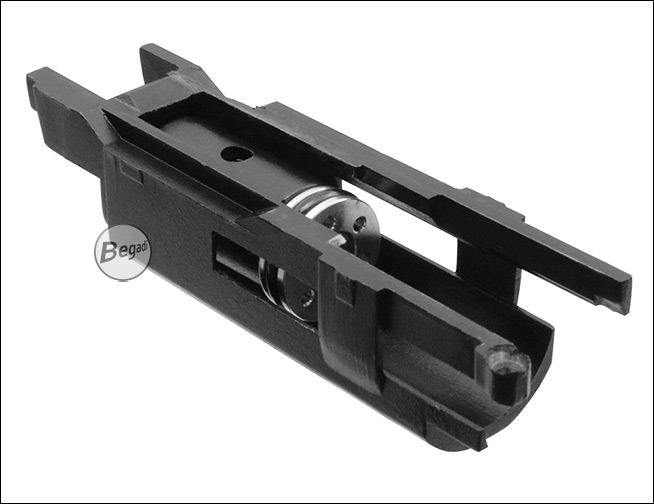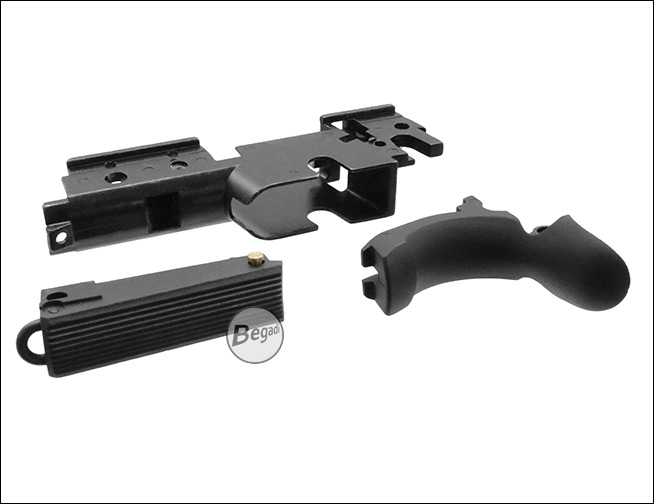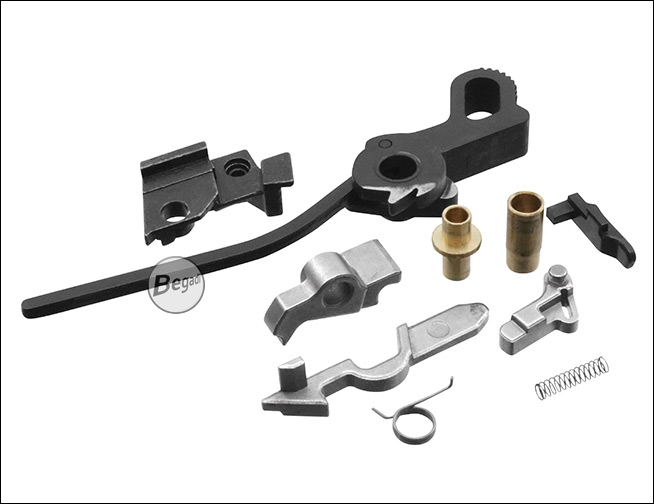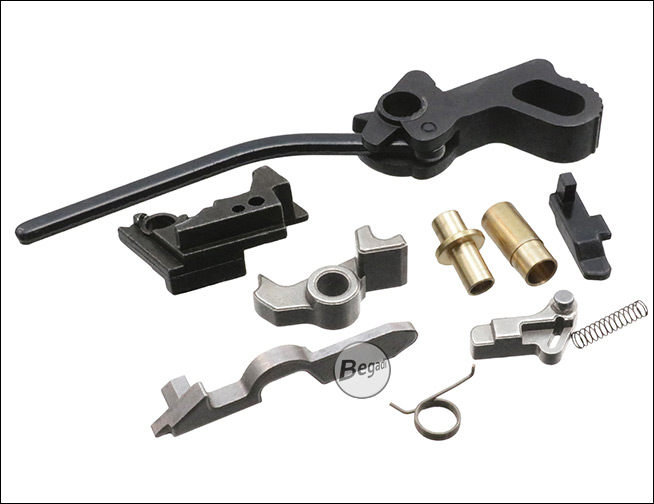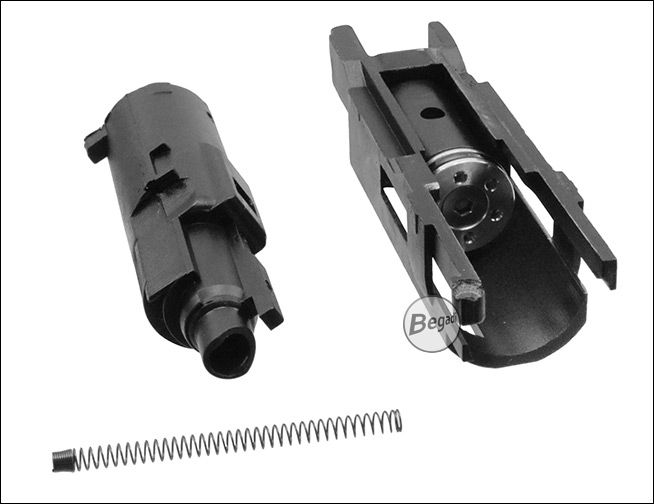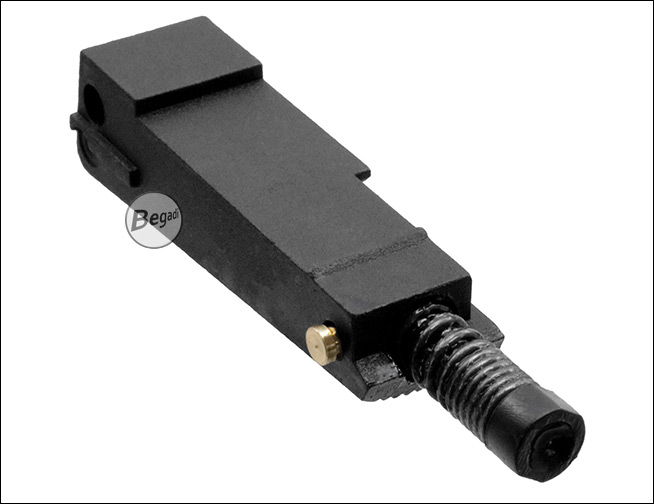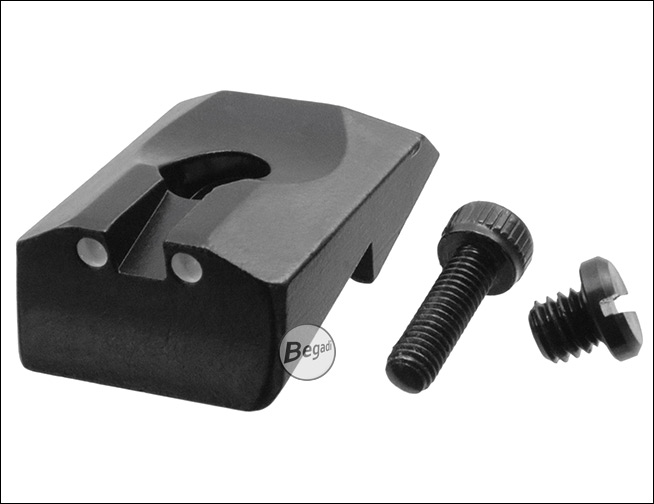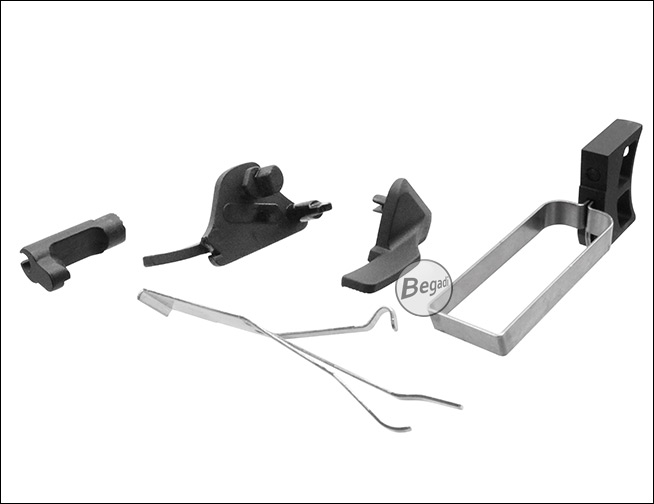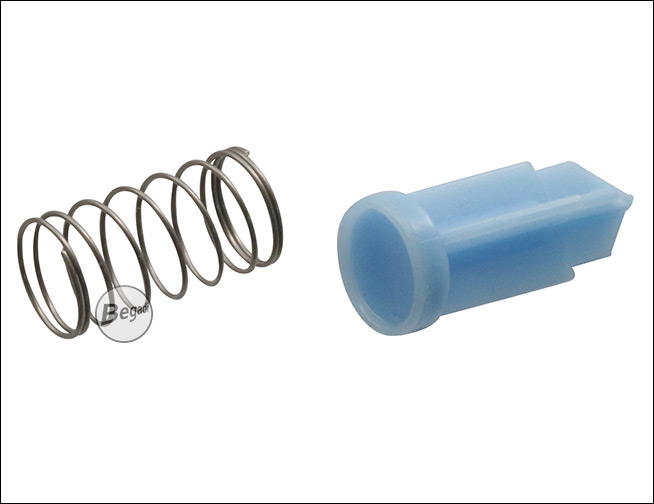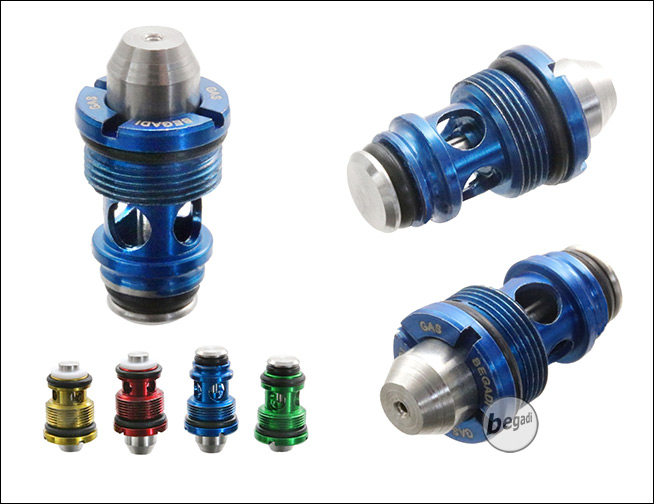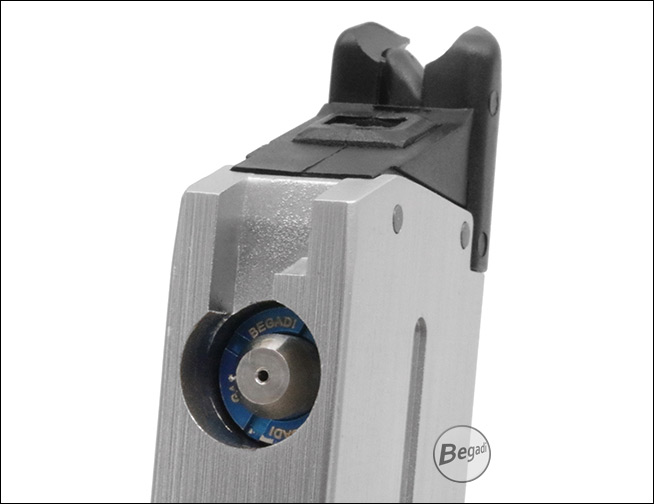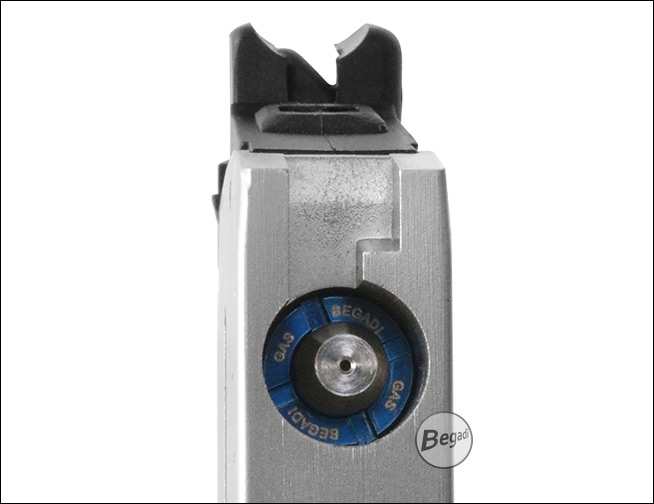 Buy 3 for

€179.35

each and save

3

%
Buy 5 for

€175.66

each and save

5

%
Buy 7 for

€171.96

each and save

7

%
Buy 9 for

€168.26

each and save

9

%
Bitte beachten: Zusätzliche Artikeloptionen wie Tuningpakete etc. werden nicht in den Staffelpreis mit eingerechnet. Der Staffelpreis wirkt auf den eigentlichen Preis des Produktes (Standard Version). Wir berechnen für Sie die Rabatte auf Basis des Prouktwertes mit zugebuchter Artikeloption, damit Sie die daraus resultierenden konkreten Rabattprozente angezeigt bekommen.