The MAG series are newly developed R-Hop buckings / rubbers from Begadi, designed in Germany!
These are specially designed for modern AEG / S-AEG weapons and HopUp units and have some special features to increase the range and reduce the spread:
Patch:
Our patch of the MAG5 and MAG7 bucking has a radius of 2.9mm (5.8mm diameter). This is something like the BB itself and thus ensures that the BB is precisely centered in the barrel. The BB is also guided straight when fired in order to prevent outliers to the side. This patch is an R-Hop and is particularly good for heavy BBs.
Alignment
:
Um ein Verdrehen des Buckings auf dem Lauf zu verhindern, liegt der Patch links und rechts direkt auf dem Lauffenster auf.
Dichtung:
To prevent the bucking from twisting on the barrel, the patch lies directly on the left and right of the barrel window.
- The transition between nozzle and bucking (sealing lip) is rounded. This rounding makes it possible for the nozzle to load the BB more easily into the HopUp. This also creates a very good seal to the nozzle (correct nozzle length required)
For the best possible seal, we recommend combining it with our
Begadi PRO CNC Nozzle with two O-Rings
, which is available in many lengths.
- Two elevations in the front area: At these points our rubbers / buckings have a diameter of 9.80mm, which press into the HopUp unit during installation and thus no pressure is lost.
Durability and wear and tear:
All of our Begadi PRO buckings are made from a very robust and hard-wearing rubber mixture. This keeps the set HopUp effect constant for a long time and wears out much more slowly than conventional rubbers.
Even with dismantling or maintenance, you don't have to worry that the rubber will crack on the patch. Nevertheless, you should exercise some caution when pulling it off. Please pay attention to the correct selection of the hardness for your weapon (energy and bullet weight). If a rubber that is too soft is chosen, the wear increases!
Marking / hardening:
In order to be able to tell our buckings apart, the respective version is marked directly. The rubber compound (hardness) is reflected in the color: 50 ° green - 60 ° blue - 70 ° black.
This means that you can immediately see which version it is.
Versions 5mm or 7mm:
Another special feature are the two available lengths of the inner patch. The respective number indicates the required length of the scrolling window.
- 5mm version: These buckings are compatible with all standard barrels with a HopUp window of 4.8 - 5.2mm. For particularly heavy BBs (0.40g +) we recommend using the 7mm version + tuning barrel, as less pressure of the tensioner is required here.
- 7mm version: This is a special version which is only suitable for tuning runs with a 6.8 - 7mm window. (DaVinci 70, TNT ...). The significantly longer patch creates a significantly stronger Magnus effect and is particularly suitable for heavy BBs. Please note that light BBs are more likely to overhop! We recommend using the 7mm combination only from 0.40g + BBs.
Tensioner:
We have also developed suitable tensioners for our buckings, these are precisely matched. If our tensioners are not compatible with your HopUp unit, please use the flat hop tensioner.
Suggestion:
- Begadi PRO 70° HopUp Tensioner -5mm- for barrels with a standard (approx. 5mm) barrel window
- Begadi PRO 70° HopUp Tensioner -6mm- for barrels with a standard (approx. 7mm) barrel window
- TNT Tensioner
- Maple Leaf Omega Tensioner
- Prometheus HopUp Tensioner Set, "Bridge Version"
Zeroing:
Like all other buckings available on the market, ours must be shot in. A constant HopUp effect is achieved here after approx. 200 - 400 shots. (Depending on the energy and weight of the ball)
Avoid setting too much hop for the first 2 magazines, as the patch has to be worked in first.
MAG or FLY Version:
Our FLY is more like a flat hop, offers very good centering and a small scatter circle with a good range. In comparison, our MAG is an R-Hop Bucking and creates a stronger HopUp effect.
The range of the MAG version is slightly higher, but the scatter circle can be a bit larger, so the MAG should only be used with heavy BBs.
Special Case Begadi Sport M14 / Cyma M14:
The M14 from Cyma uses a much shorter bucking. Our normal FLY5, FLY7, MAG5, MAG7 can be used here, but the rubber must be cut off at the front (towards the mouth) by 2 - 3mm. If you don't want to do this yourself, we already offer a pre-cut version.
- Art. 26021016
Recommendation of hardness:
| | |
| --- | --- |
| Bucking/Version | Energy/Weight |
| FLY5 Regular and SHORT - 50° Green | 0,5 - 1,3 Joule with 0,20 bis 0,28g BBs |
| FLY5 Regular and SHORT - 60° Blue | 1,2 - 2,0 Joule with 0,25 bis 0,36g BBs |
| FLY5 Regular and SHORT - 70° Black | 1,9 - 2,5 Joule with 0,32 bis 0,40g BBs |
| FLY7 - 50° Green | 1,3 - 1,8 Joule with 0,30 bis 0,40g BBs |
| FLY7 - 60° Blue | 1,5 - 2,8 Joule with 0,36 bis 0,45g BBs |
| FLY7 - 70° Black | 2,5 - 3,5 Joule with 0,45 bis 0,48g BBs |
| MAG5 - 50° Green | 1,0 - 1,5 Joule with 0,28 bis 0,36g BBs |
| MAG5 - 60° Blue | 1,4 - 2,0 Joule with 0,32 bis 0,45g BBs |
| MAG5 - 70° Black | 1,9 - 2,5 Joule with 0,36 bis 0,48g BBs |
| MAG7 - 50° Green | 1,3 - 1,8 Joule with 0,30 bis 0,40g BBs |
| MAG7 - 60° Blue | 1,5 - 2,8 Joule with 0,40 bis 0,48g BBs |
| MAG7 - 70° Black | 2,5 - 3,5 Joule with 0,40 bis 0,48g BBs |
Compatibility
:
In the following table we would like to give you a brief exemplary overview of which HopUp unit we recommend which bucking. Please note that there may be differences depending on the manufacturer and weapon!
In most cases, only the nozzle length needs to be adjusted here. Unfortunately, we cannot go into all the weapons on the market here, as the barrel used, the tap plate, the sector gear and the shell also have an influence on the required nozzle length.
The buckings marked with green are compatible with the original nozzle length, marked with white means that the nozzle length must be adjusted (changed).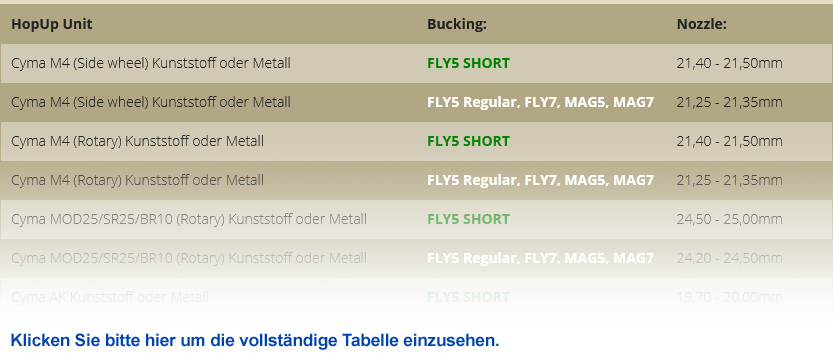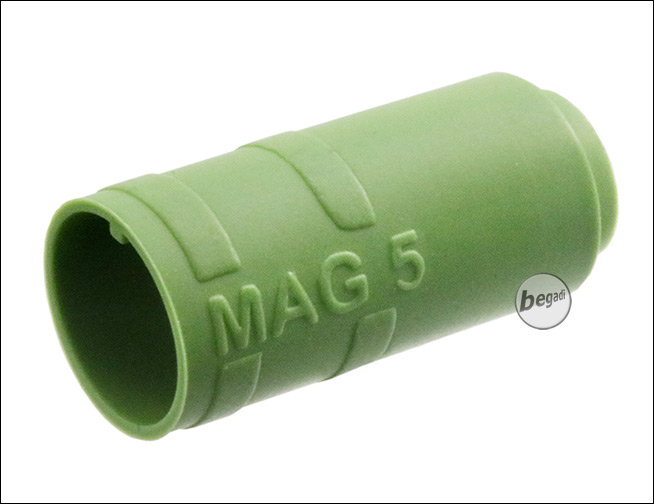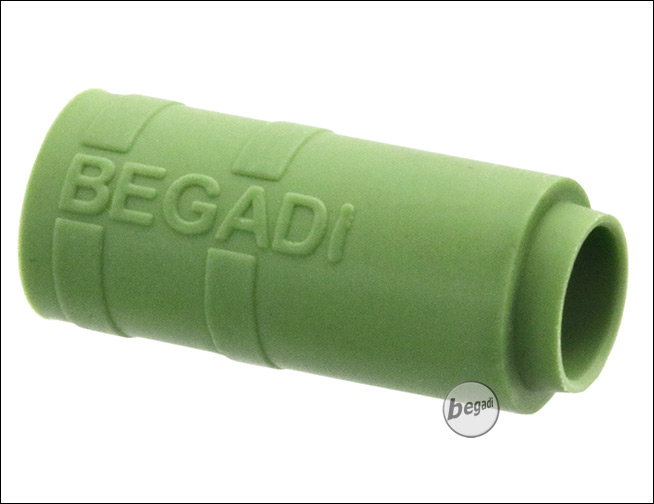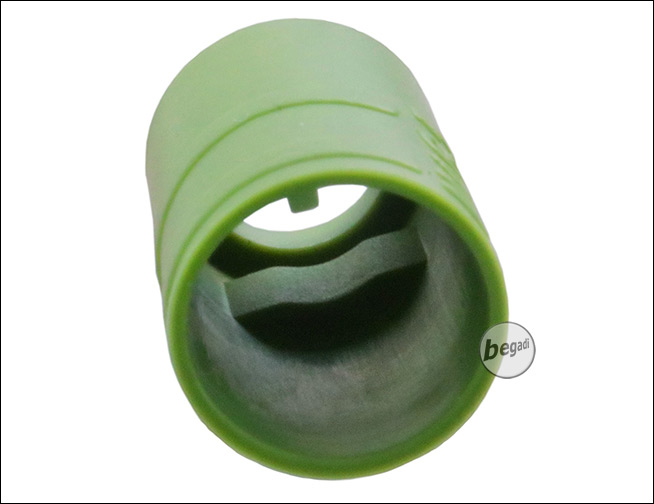 Overview of the 5 different versions of our PRO Buckings: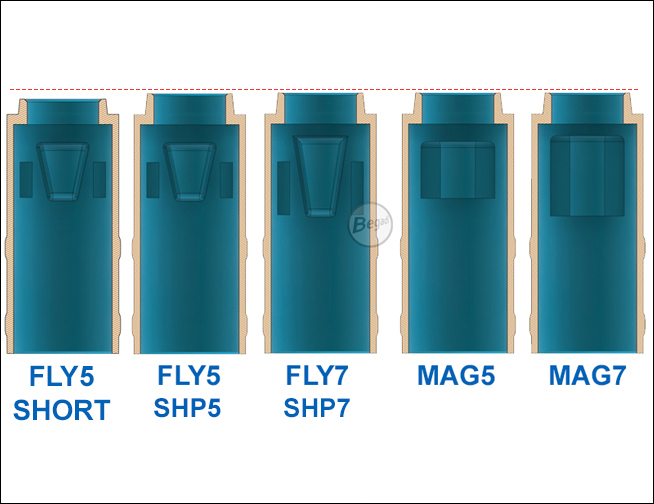 Size information (outside) for the FLY series [FLY + SHORT]: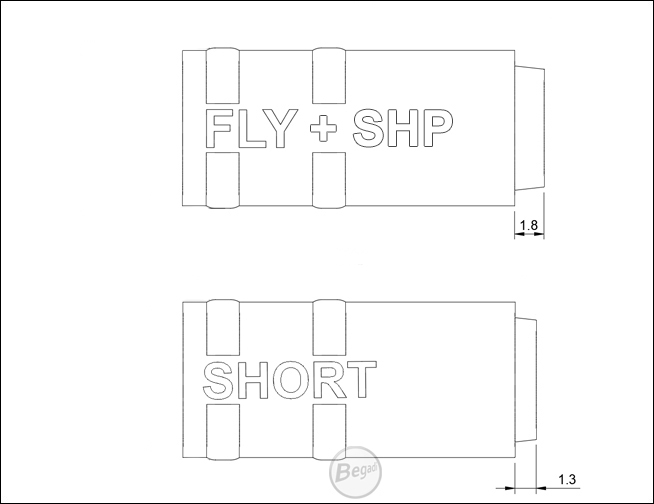 Size information (patch) for the FLY5 + FLY7 series: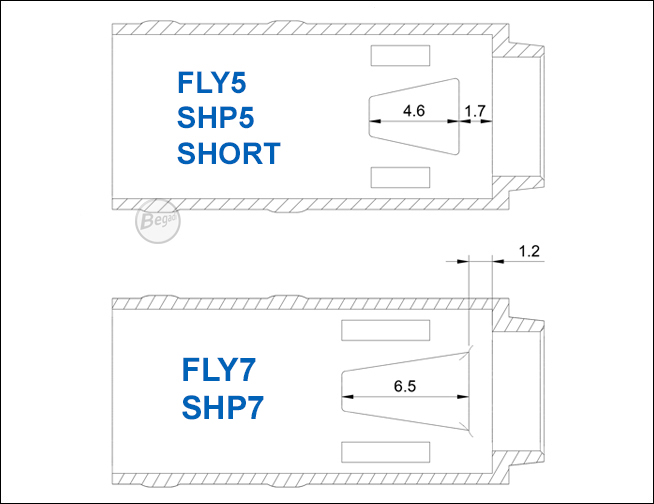 3D representation / interior view of the FLY5 + SHORT series: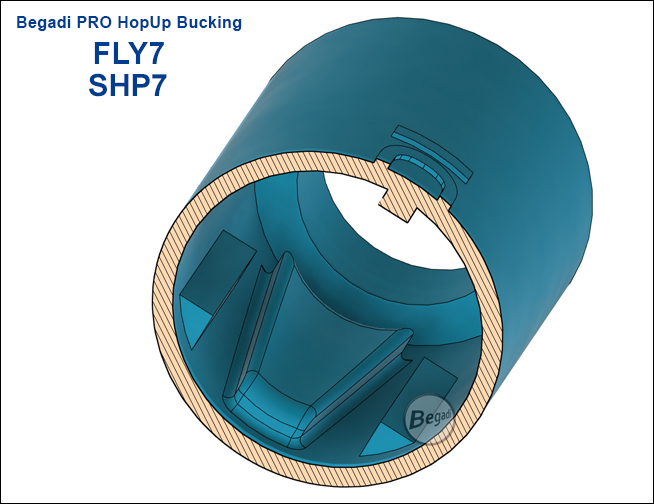 Buy 3 for

€7.51

each and save

5

%
Buy 5 for

€7.35

each and save

7

%
Buy 7 for

€7.19

each and save

9

%
Buy 9 for

€7.03

each and save

11

%