11.1V boost battery for AEP weapons with Mosfet.
The dimensions of the battery fit into the Cyma AEPs - it was specially developed for this.
Please note: Use the battery only (!) For AEPs with built-in Mosfets. AEPs without Mosfets (Gen. 1 / Classic / etc.) will be damaged when using this battery.
Properties:
Connection:
Mini DEAN
Size:
80mm x 15mm x 12mm
Weight:
approx. 34gr
Capacity:
700mAh
C rate:
30C / 60C
The battery is delivered with a Mini (!) Dean connection - directly suitable for AEPs.
You can also let us re-solder the battery to other connectors (Dean, Mini TAM) using the option selection.
Note:
Please note that the AEP models are basically designed for 7.4 volts.
If you operate these with 11.1 volts, the models tend to double shots in semi mode.
If the swich unit interrupts the power supply, the higher voltage means that the motor is still in motion so that a second shot can be released.
The 11.1 volt battery is also primarily intended to increase the rate of fire in full auto mode.
C rate: (discharge)
All of our AMAX batteries have only one C value. This value always indicates the constant discharge current e.g. 1100mAh with 20C can deliver a constant 22A (1100x20).
The short-term discharge current (current peak) is always twice as high, which means that a 20C battery can briefly deliver 40C. This corresponds to 44A with a 1100mAh battery.
Another example: AMAX 11.1V - 2150mAh - 25C = constant: 53A, short-term: 106A
Links & Downloads:
- Tech video about Airsoft LiPo batteries: (YouTube, REAPERs Airsoft)
Video content: charging, balancing, plug, charger, safety etc.
- Begadi Battery Guide (link leads to the guide overview)
Important general information about LiPo batteries:
Lithium polymer (LiPo / LiPoly) batteries are extremely powerful types of batteries that are mainly known from RC model making. Compared to conventional NiCD batteries, Lipo batteries maintain their voltage almost to the very end, can deliver a higher current flow and maintain this even under load. The storage of LiPo batteries is also easier, as they hardly lose power during storage and can be charged from any state of charge without any memory effect.
Disadvantages are that Lipo batteries can catch fire if they are overcharged or if there is a cell defect. A high-quality charger including a balancer is therefore recommended in order to charge the LiPo battery safely.
In addition, Lipo batteries should generally be charged on a fireproof surface. Optionally, a fire protection bag can be used, which offers protection in the very rare case of a battery fire.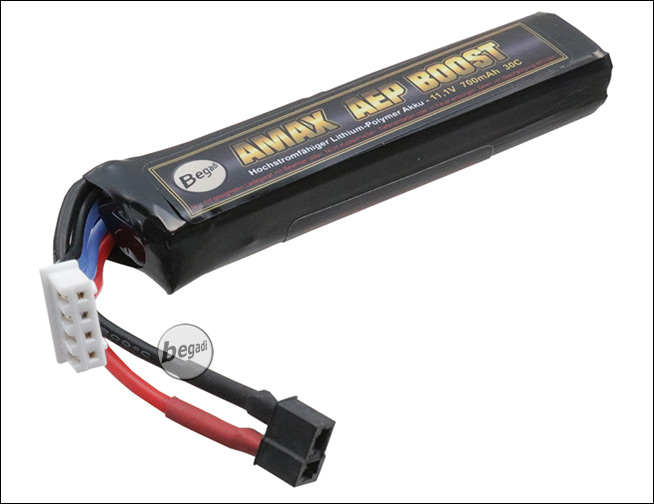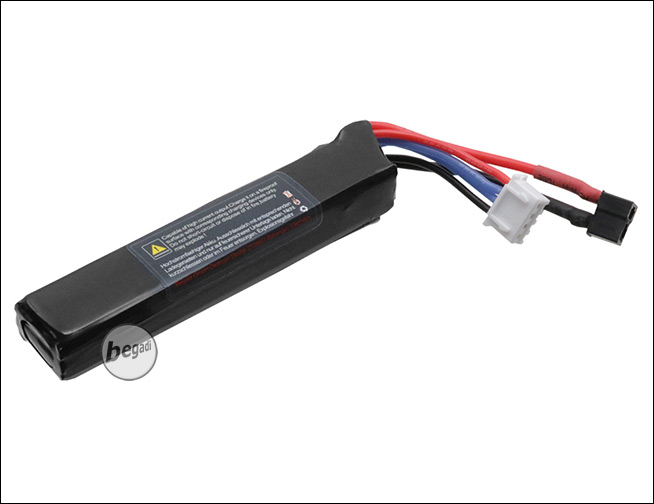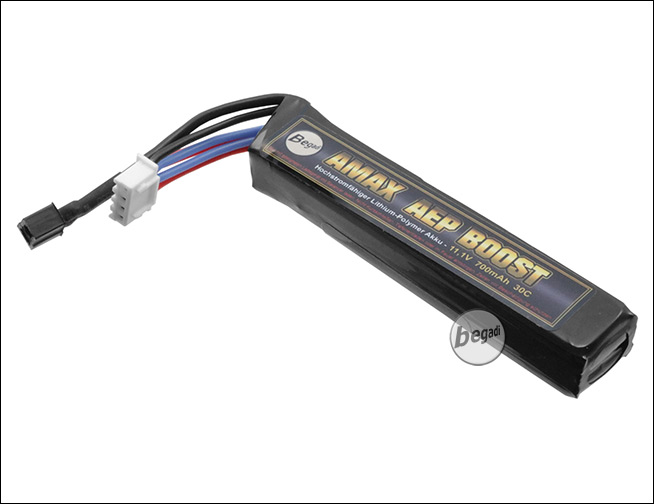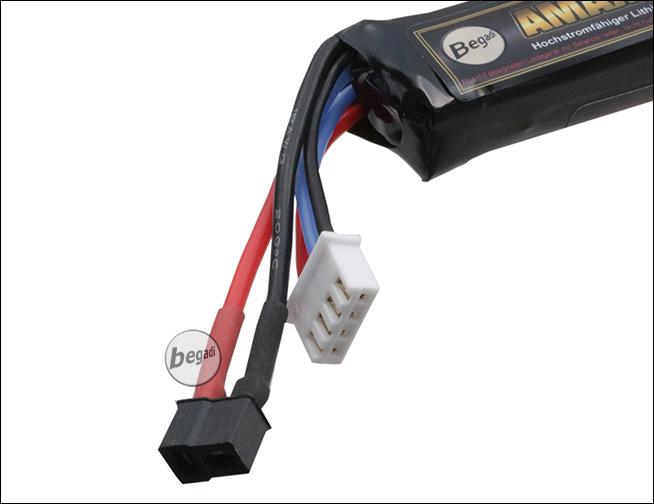 Buy 3 for

€22.71

each and save

5

%
Buy 5 for

€22.23

each and save

7

%
Buy 7 for

€21.75

each and save

9

%
Buy 9 for

€21.27

each and save

11

%
Bitte beachten: Zusätzliche Artikeloptionen wie Tuningpakete etc. werden nicht in den Staffelpreis mit eingerechnet. Der Staffelpreis wirkt auf den eigentlichen Preis des Produktes (Standard Version). Wir berechnen für Sie die Rabatte auf Basis des Prouktwertes mit zugebuchter Artikeloption, damit Sie die daraus resultierenden konkreten Rabattprozente angezeigt bekommen.